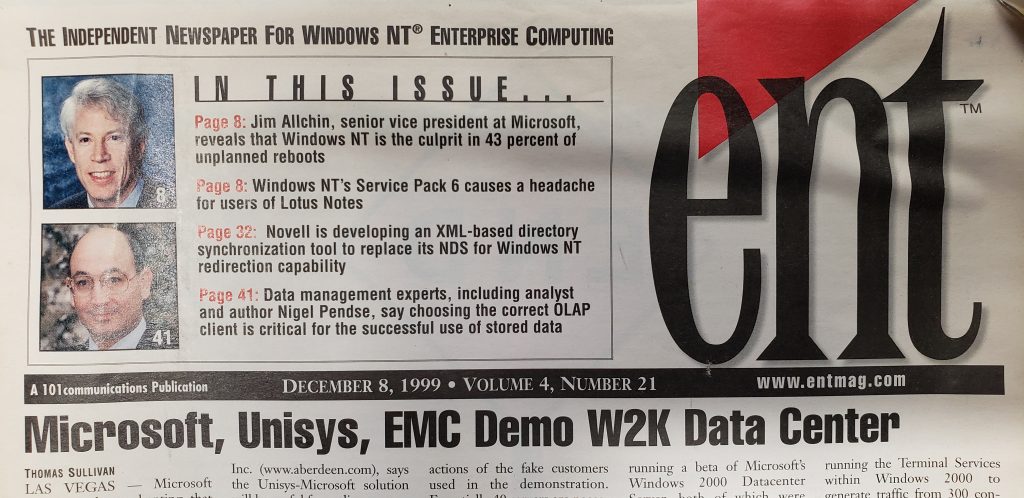 From early 1997 into early 2002, I wrote the NT Heartland back page column in ENT Magazine. I'm grateful to the Wayback Machine website at archive.org for preserving copies of most of these columns. I have unpublished drafts for the columns below not archived. I also wrote a few special articles for ENT. Those are at the bottom.
The pre-2002 columns came from this archive of back issues. I also found this list of all my NT Heartland columns. Some of the links are dead. The last few columns came from the July 2002 ENT Magazine Greg Scott page archive. During this period, ENT went to all Digital and eventually merged with Redmond Channel Partner Magazine.
Alpha and the ISPs, Feb. 9, 2000
Lovely spam, Nov. 22, 2000
Hang 'em High, Feb. 26, 2001
The publication dates below, after ENT went to all digital, are wrong. My guess is, the actual dates are about one year earlier than the listed publication dates.
ENT Special Reports
Security Controversy Sparks NT Debate, May 7, 1997
Security experts, reporters and pundits across the industry continue to engage in a highly charged debate over purported flaws in Windows NT security. The latest round of claims and counterclaims pits researchers against the press, and vendor against vendor, and fills cyberspace with electronic hot air. It all started when Jeremy Allison, with Cygnus Solutions (Sunnyvale, Calif.) wrote PWDUMP, a program for Windows NT System Administrators to display partially decrypted Windows NT passwords for use with the UNIX Samba utility…
Greg's GAMBLE: A Study in Dependable Computing, Oct. 8, 1997
Ah, Minnesota, land of 17,000 lakes and more new casinos than a skinny bald guy can count. For a discussion of computer dependability, Minnesota needs one more hypothetical casino. Let's call it Greg's Automated Money-BLowing Empire (GAMBLE)…