Founded in 2004, Fishing for Life is approaching twenty years serving youth, families, veterans & communities through fishing and outdoor programs. Holes 4 Heroes is an annual ice fishing tournament that especially serves US military families.
We had a special weather challenge in 2023 because a heavy wet snow earlier in the season insulated Medicine Lake and set up an icewall at Harty's Bait, where we usually enter the lake. And since we were in a different position on the lake this year, Nextera Telecom scrambled to find a different tower with line of sight for our microwave internet connection, so we could run the event close to the south shore near Ryerson's parking lot.
The new position on the lake also set up a challenge getting vehicles loaded with equipment onto the ice. The only vehicle approach was from the west side of the lake with a trip across the ice over the snow. Or with four-wheeler shuttles from Ryerson's parking lot on the near shore – and thanks to Ryerson for letting us use its parking lot.
But with a high temp of 39 degrees F and not a cloud in the sky, we could not have asked for nicer weather this year.
Thanks to Nextera Telecom for bringing 50 mb of wireless internet service out on top of a frozen lake. And to all the sponsors for making all this possible.
Enjoy the 5+ hour livestream recording below. Or see Time Indexes at the bottom of this page to find special moments. I started at the 20:11 mark because the first twenty minutes were just filler. Mike "Cold Front" Kurre fired up the crowd around the 35 minute Mark. The color guard started around 38:30, and Sarah Lloyd knocked it out of the park with the National Anthem around the forty minute mark.
Here is a Saturday morning setup sneak-peak. I started this one after some initial debugging. I said in the video I would not turn it off, but then ran into power problems a few minutes later and had to restart everything.
As the sun sets slowly in the west (well, okay, southwest), another successful event in the books. Time to tear down.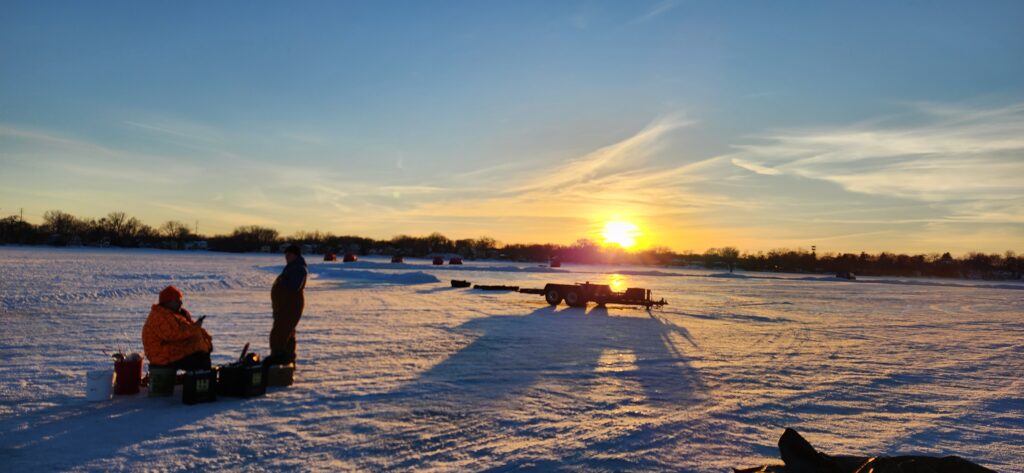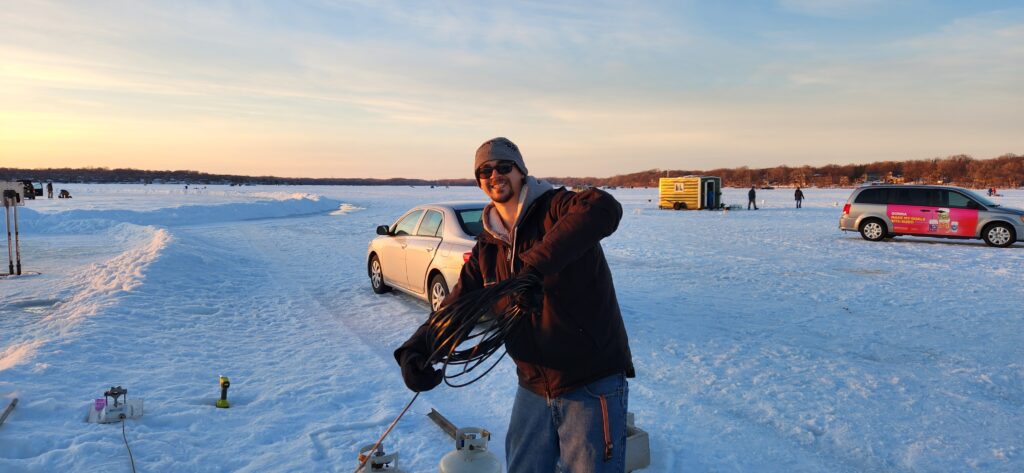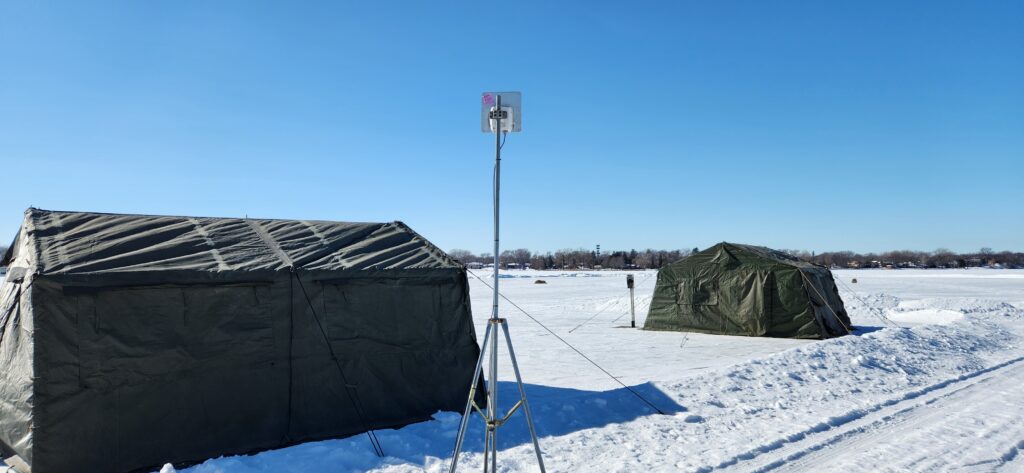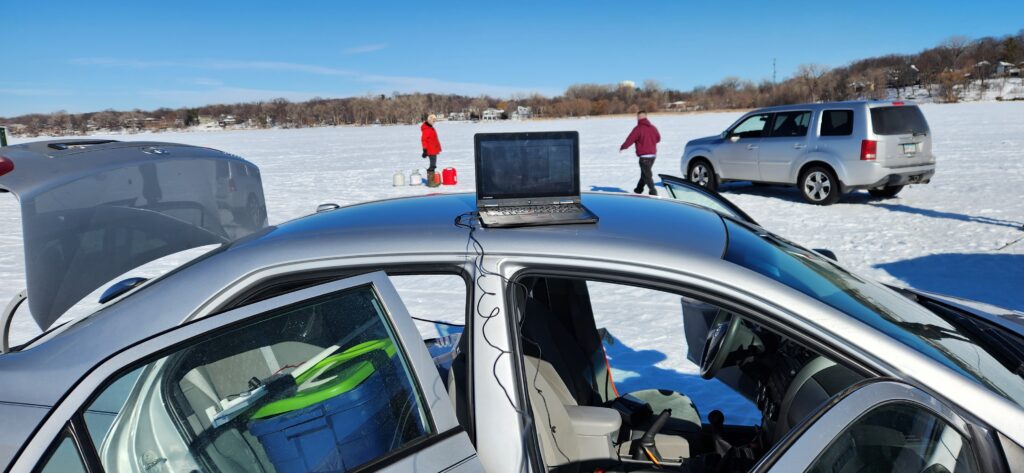 Time Indexes
Here are time indexes for Holes 4 Heroes video highlights. Time indexes are all negative because they're offsets from the end. So a time index of, say, -4:59:25 means 4 hours, 59 minutes, 25 seconds before the end. Apologies in advance for butchering names.
-4:59:25 Sarah Lloyd, Mike "Cold Front" Kurre, and Tom Goodrich interviews with Zeke.
-4:53:19 Zeke demonstrates the crappie flop.
-4:51:10 Minnesota Teen Challenge volunteers love Zeke's crappie flop demonstration.
-4:49:59 Zeke and Sarah interview Tom Goodrich.
-4:41:30 Color Guard, followed by Sarah Lloyd National Anthem, dedication with Pastor Vaughn Blackburn, swearing in ceremony for new US Army recruits, Pledge of Allegiance with Tom Goodrich, moment of silence, and announcements with Laura.
-4:30:00 Walking around with Sarah.
-4:19:00 Santa Clause ambush interview.
-4:18:20 Polaris Kids Zone – auger instruction with Nicole Jacobs.
-4:13:12 Amanda impromptu interview after I thought the phone went black. But it was just my sunglasses.
-4:10 Meet the sheriffs on snowmobiles.
-4:09 Time of day is 12:35 P.M.
-4:08:25 Mike Kurre interview with Jason, Sue, and the CEO from The Egan Company, operating the weigh station.
-3:51:10 Minnow race #1.
-3:46:40 Countdown (Mic went bad).
-3:41:09 First fish.
-3:40:19 Tom Goodrich with KARE-11.
-3:37:00 Mic debugging (Thanks Tom Rice!).
-3:34:05 Always Drains interview.
-3:28:18 Minnow race #2.
-3:20:40 Greg Scott sponsor interview.
-3:07:44 Minnow race #3.
-2:57:50 Charlie Burns, Wounded Warrior Project
-2:42:10 Minnow race #4.
-2:36:45 Tackle Terry Tuma.
-2:23:50 Minnow race #5 (Time of day is 2:21 P.M.).
-2:20:29 Crappie flop.
-2:06:10 Minnow race #6.
-1:55:12 Chad Lanners.
-1:47:44 Big large mouth bass at the weigh in station.
-1:43:24 Brad Carlson with AM1280 The Patriot.
-1:38:20 Jeremiah Crow – enlistee.
-1:34:25 Tom Goodrich.
-1:30:00 Elks fishing joke.
-1:27:00 Tom Kramin – Elks interview.
-1:16:51 Sara Shrode.
-1:14:02 Tom Goodrich behind the camera.
-1:10:05 Thanks Tom!
-1:09:45 Tyler Van Eps, Lube Tech.
-1:02:15 Final minnow race.
-47:35 Time of day is 3:57 P.M.
-45:48 Time of day is 3:58 P.M.
-44:24 Going…going…gone!
-31:27 Fishing and raffle winners.