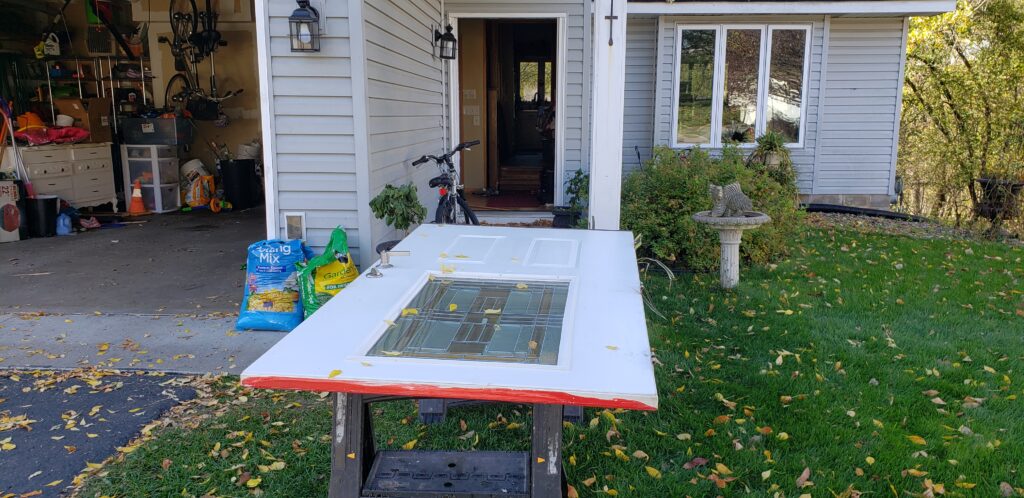 It was supposed to be a half-hour project to remove the front door and replace a broken door sweep. It turned into a Jeld-Wen bureaucratic struggle rivaling any DMV horror story. I want to thank Dick at my local Home Depot store for navigating through it.
It started in October, 2015, when I installed a new front door. The bottom door sweep had a bunch of soft plastic fins, and as inside warm air met outside cold air through that first Minnesota winter, ice stuck those fins to the threshold below them and tore some of them off. I called Home Depot, Home Depot called Jeld-Wen, and Jeld-Wen sent a warranty replacement door sweep.
I milked everything I could get out of that original door sweep, warranty replacement in-hand, but by 2021, it was shot. And on a sunny October 19, 2021, when the high temp topped 70 degrees F for probably the last time in 2021, it was time to replace it. The process is simple enough. Jeld-Wen even offers a how-to video. Lay the door on a couple of sawhorses, peel off the old sweep, insert the new door sweep, and put the door back on its hinges. Total time without a front door should be only a few minutes.
And that was when I realized Jeld-Wen had sent me a thirty-six inch door sweep for our forty-two inch door.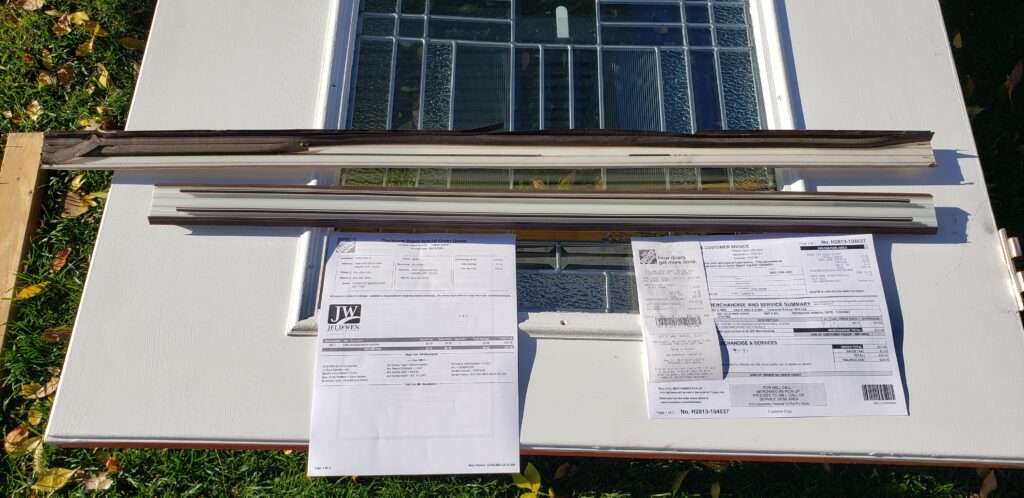 Fortunately, I live about five minutes away from the nearest Home Depot store. Unfortunately, Home Depot had no forty-two inch door sweeps in stock. Anywhere. Forty-two inches is an unusual size and nobody carries them. My only choice – order a replacement from Jeld-Wen.
Dick at Home Depot looked up Jeld-Wen's phone number and suggested I call them. And so I did; right there in the store. The first question the lady who answered asked me was, what was my store number. I told her I had no clue, but needed a replacement door sweep. She said Jeld-Wen doesn't give part numbers to homeowners, and so I offered to put Dick on the phone. I learned my local Home Depot is store number 2813. This might come in handy next time I have to go fifteen rounds with a manufacturer.
The Jeld-Wen lady transferred Dick to somebody else, who transferred him to somebody else, who transferred him to somebody else, who suggested I should look on the Jeld-Wen website instead of calling. And then they transferred him to a fourth person, who told Dick that Jeld-Wen doesn't sell replacement forty-two inch door sweeps.
It felt like Dick was on the phone with Jeld-Wen for an hour, but my phone says the call lasted eighteen minutes and forty-two seconds. Dick finally found somebody to look up the part number – 91191. We looked it up online; the listing says it's a forty-two inch brown door sweep. Retail price is $9.79. I ordered two. ETA is Nov. 23, 2021, or more than a month out.
I don't know if a month lead time for a cheap plastic part is another COVID-related supply chain problem or Jeld-Wen bureaucracy. But I do know Minnesota is colder on Nov. 23 than Oct. 19, and so I may need to milk one more winter out of that original broken door sweep.
I caulked the remaining fins the best I could and put the door back together and re-hung it.
I want to thank Dick at Home Depot for sticking with it. I'll update this blog post with new developments. If Jeld-Wen wants to respond, I'll post that too.