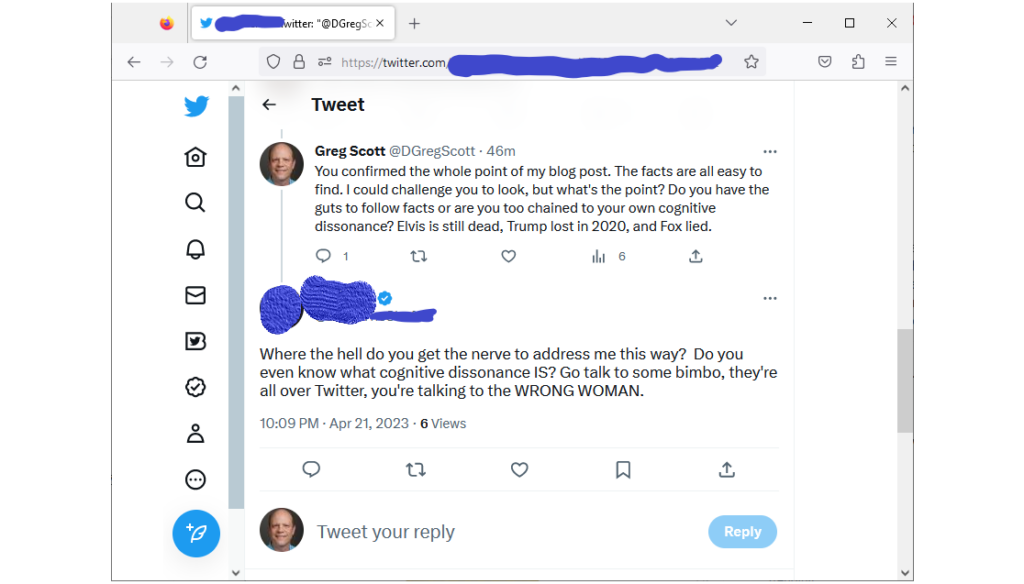 I did not set out to bait anyone, but sometimes material just falls into my lap. I advertised, If You're Fox News, Sometimes You Want Passive Voice on Twitter and fell right into the cross-hairs of a diehard right wing fan. The dialog was, well, educational. I'm still not sure how to persuade left or right wing diehard fans to look at facts – and maybe I'm wasting my time – but this dialog confirms what I've suspected for a long time. Facts apparently don't matter to diehards.
I'll call her Betty–not her real name. Betty says in her Twitter profile that she holds a PhD in Experimental Psychology. I probably struck a raw nerve.
Here is the dialog. I have a couple comments after that.
---
Betty:
They totally lost credibility to me for settling this way.
Me:
Did Fox lose credibility with you because they settled or because they lied?

Betty:
They settled; they didn't lie, they reported what they had been told. DOES CNN LIE? and all the others? EVERY SINGLE DAY.

Me:
The difference is, we have text messages of Fox News celebrities telling each other that the election fraud narrative was a lie. They knew one thing and said the opposite on the air. They settled because they knew they would lose.
Betty:
Odd that no one else knows this

Me:
You confirmed the whole point of my blog post. The facts are all easy to find. I could challenge you to look, but what's the point? Do you have the guts to follow facts or are you too chained to your own cognitive dissonance? Elvis is still dead, Trump lost in 2020, and Fox lied.

Betty:
[She deleted her reply a few minutes after posting it. But Twitter doesn't really delete comments. It just hides them. Also see the screen shot above.]
Me:
I'm not sure where I get my nerve. Here's a blog post about cognitive dissonance with a better explanation than I can do in 280 characters. Maybe you'll read it and correct me where I'm wrong. I'll wait here a few minutes just in case.
[Link to Lies, Facts, and Cognitive Dissonance Gone Wild]
---
I checked my website logs. I found hits from Twitter and a few web crawlers, but even after I challenged her, Betty never looked.
I'll go back to our Twitter thread and paste a link to this blog post, so Betty knows I'm using her comments. It's all public domain. Betty is done talking to me and I doubt she will follow the link. But just in case – Betty – I'm sorry I made you mad. But I am not sorry for challenging you to look at facts.