For more phishing samples, see my phishy email collection.
This is a great phishing attack, designed to look like a routine invoice. No doubt, the attached spreadsheet includes a nasty surprise. Don't fall for it. I give this one an A-. Ya never know what you might find when chasing email headers. This one came from the US Department of Defense and routed through Armenia.
Details below the screenshot.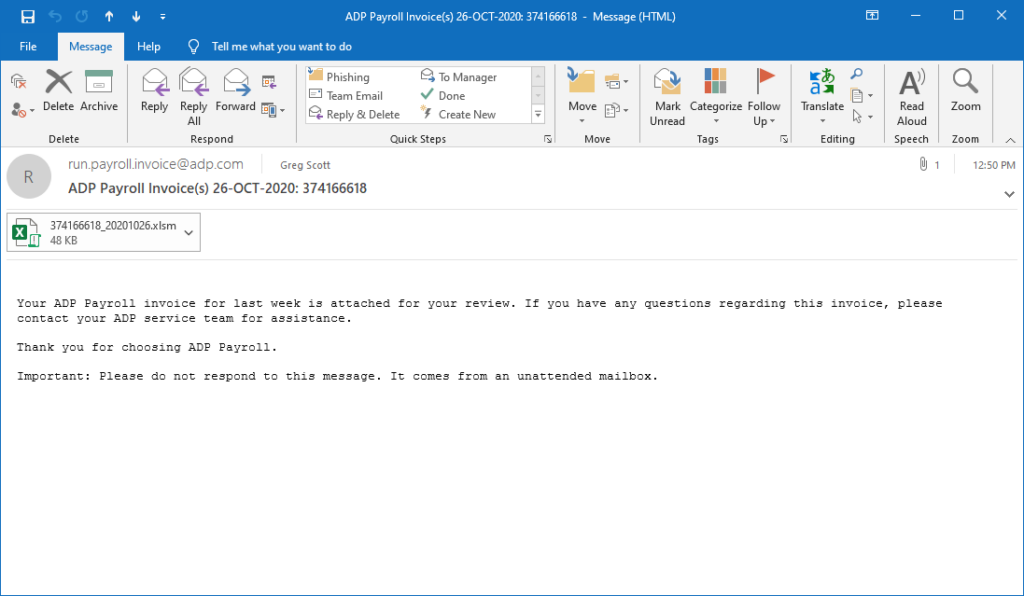 Relevant portion of the email header
To look at the email header in Outlook, click File…Properties. Email headers have a treasure-trove of routing and diagnostic information.
.
.
.
Received: from 178.160.250.142 by
mail2016.infrasupport.local (10.10.10.14) with Microsoft SMTP Server id
15.1.1531.3 via Frontend Transport; Mon, 26 Oct 2020 12:50:22 -0500
Received: from LYEIDOP.smtprelay.gslb.es.oneadp.com (LYEIDOP.smtprelay.gslb.es.oneadp.com
[26.110.198.75]) by with SMTP id
3fb06ys5gfgrutt.4.20201026215022; Mon, 26 Oct 2020 21:50:22 +0400
To: gregscott@infrasupportetc.com
Subject: ADP Payroll Invoice(s) 26-OCT-2020: 374166618
Message-ID: 43d115e0-897c-3b46-1ae5-@smtprelay.gslb.es.oneadp.com
Date: Mon, 26 Oct 2020 21:50:22 +0400
From: run.payroll.invoice@adp.com
.
.
.
This one claimed to start inside ADP and relay through an intermediate server. But a whois lookup on IP Address 26.110.198.75 shows it really came from the United States Department of Defense. Gulp – let that sink in.
Yep, Apparently, somebody compromised a government computer, forged a fake name to impersonate ADP, and used it to ensnare gullible businesses. Our tax dollars at work. Here is the entire whois output.
I generated this with the linux whois command. Whois information is also available by querying the whois website.
[root@www ~]# whois 26.110.198.75
[Querying whois.arin.net]
[whois.arin.net]
#
ARIN WHOIS data and services are subject to the Terms of Use
available at: https://www.arin.net/resources/registry/whois/tou/
#
If you see inaccuracies in the results, please report at
https://www.arin.net/resources/registry/whois/inaccuracy_reporting/
#
Copyright 1997-2020, American Registry for Internet Numbers, Ltd.
#
NetRange: 26.0.0.0 - 26.255.255.255
CIDR: 26.0.0.0/8
NetName: DISANET26
NetHandle: NET-26-0-0-0-1
Parent: ()
NetType: Direct Allocation
OriginAS:
Organization: DoD Network Information Center (DNIC)
RegDate: 1995-05-01
Updated: 2009-06-19
Ref: https://rdap.arin.net/registry/ip/26.0.0.0
OrgName: DoD Network Information Center
OrgId: DNIC
Address: 3990 E. Broad Street
City: Columbus
StateProv: OH
PostalCode: 43218
Country: US
RegDate:
Updated: 2011-08-17
Ref: https://rdap.arin.net/registry/entity/DNIC
OrgTechHandle: MIL-HSTMST-ARIN
OrgTechName: Network DoD
OrgTechPhone: +1-844-347-2457
OrgTechEmail: disa.columbus.ns.mbx.hostmaster-dod-nic@mail.mil
OrgTechRef: https://rdap.arin.net/registry/entity/MIL-HSTMST-ARIN
OrgTechHandle: REGIS10-ARIN
OrgTechName: Registration
OrgTechPhone: +1-844-347-2457
OrgTechEmail: disa.columbus.ns.mbx.arin-registrations@mail.mil
OrgTechRef: https://rdap.arin.net/registry/entity/REGIS10-ARIN
OrgAbuseHandle: REGIS10-ARIN
OrgAbuseName: Registration
OrgAbusePhone: +1-844-347-2457
OrgAbuseEmail: disa.columbus.ns.mbx.arin-registrations@mail.mil
OrgAbuseRef: https://rdap.arin.net/registry/entity/REGIS10-ARIN
#
ARIN WHOIS data and services are subject to the Terms of Use
available at: https://www.arin.net/resources/registry/whois/tou/
#
If you see inaccuracies in the results, please report at
https://www.arin.net/resources/registry/whois/inaccuracy_reporting/
#
Copyright 1997-2020, American Registry for Internet Numbers, Ltd.
#
[root@www ~]#
What about the intermediate relay server? As long as we've gone to the trouble, may as well check it out too. First, a whois lookup for IP Address 178.160.250.142. This just keeps getting better. The intermediate relay server is in Armenia. Here is the complete whois output.
[root@www ~]# whois 178.160.250.142
[Querying whois.ripe.net]
[whois.ripe.net]
% This is the RIPE Database query service.
% The objects are in RPSL format.
%
% The RIPE Database is subject to Terms and Conditions.
% See http://www.ripe.net/db/support/db-terms-conditions.pdf
% Note: this output has been filtered.
% To receive output for a database update, use the "-B" flag.
% Information related to '178.160.128.0 - 178.160.255.255'
% Abuse contact for '178.160.128.0 - 178.160.255.255' is 'abuse@beeline.am'
inetnum: 178.160.128.0 - 178.160.255.255
netname: AM-ARMENTEL-20100122
country: AM
org: ORG-ATCh1-RIPE
admin-c: ANOD1-RIPE
tech-c: ANOD1-RIPE
status: ALLOCATED PA
mnt-by: RIPE-NCC-HM-MNT
mnt-by: ARMENTEL-MNT
mnt-routes: ARMENTEL-MNT
created: 2010-01-22T15:00:00Z
last-modified: 2016-09-22T11:29:34Z
source: RIPE # Filtered
organisation: ORG-ATCh1-RIPE
org-name: VEON Armenia CJSC
org-type: LIR
address: 2 Aharonian street
address: 0014
address: Yerevan
address: ARMENIA
phone: +37410289787
fax-no: +37410289770
abuse-c: AR14046-RIPE
admin-c: AA5090-RIPE
admin-c: AH5263-RIPE
mnt-ref: ARMENTEL-MNT
mnt-ref: RIPE-NCC-HM-MNT
mnt-by: RIPE-NCC-HM-MNT
mnt-by: ARMENTEL-MNT
created: 2004-04-17T10:58:03Z
last-modified: 2018-01-15T09:30:05Z
source: RIPE # Filtered
role: Armentel Network Operational Division role
address: 24/1 Azatoutyan Ave.
address: Yerevan 0014
address: Republic of Armenia
abuse-mailbox: abuse@beeline.am
admin-c: AA5090-RIPE
tech-c: AA5090-RIPE
nic-hdl: ANOD1-RIPE
created: 2010-01-18T09:02:39Z
last-modified: 2016-04-05T12:05:03Z
mnt-by: RIPE-NCC-LOCKED-MNT
source: RIPE # Filtered
% Information related to '178.160.248.0/22AS12297'
route: 178.160.248.0/22
descr: "VEON Armenia" CJSC
origin: AS12297
mnt-by: ARMENTEL-MNT
created: 2020-05-22T12:53:14Z
last-modified: 2020-05-22T13:10:59Z
source: RIPE
% This query was served by the RIPE Database Query Service version 1.98 (ANGUS)
[root@www ~]#