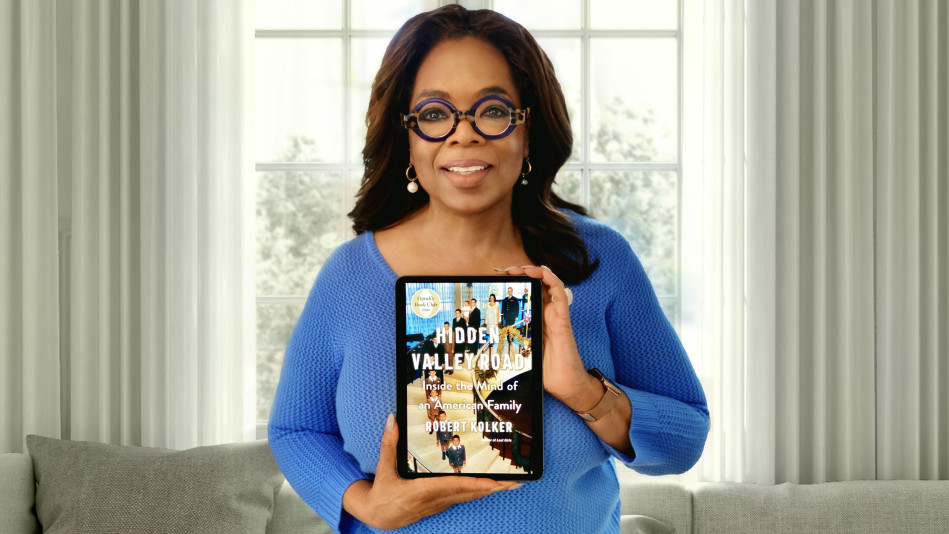 I'm an author, and getting a celebrity endorsement from Oprah Winfrey would do wonders for my self-esteem. It would probably also help rocket my books to the top of the best seller lists. But I don't like the cost. Read up, fellow authors. Celebrity exposure may cost your soul.
Oprah recently added Hidden Valley Road, by Robert Kolker, to her book club, and sure enough, now it's a best seller. It's the story about the twelve children in the Galvin family, six of whom were diagnosed with schizophrenia, and the struggles the whole family endured over several decades.
My friend, Nate, is the son of one of those siblings, and Oprah interviewed Nate's aunts and uncles as part of her book coverage. She also wanted to interview Nate's dad. What a rush. How many people would be thrilled being interviewed by Oprah Winfrey?
It didn't take long for problems to come up. It started with Apple TV and the COVID-19 pandemic. Celebrity interviews during the era of social distancing need to be over a video link. Sort-of. Somebody from Oprah's crew would set up a camera in Mr. Galvin's house, aimed at Mr. Galvin using his favorite Apple device to talk to Oprah over a video link. The problem was, Nate's dad doesn't own an Apple device. Neither does Nate. They own Android devices. But the interview, on Apple TV, demanded an Apple device. No Apple device, no interview. Nate found one for his dad somewhere.
Next came the contract. Here is a PDF. I've done dozens of radio interviews, a few local TV interviews, and a bunch of print interviews. None required a contract.
But Oprah's Book Club on Apple TV does. And it's a nasty one. The ugliness started right away in paragraph one.
I further grant to Producer and any platform of Apple Inc. and its subsidiaries (collectively, "Exhibitor") and its advertisers, the right to use the Materials throughout the universe, in perpetuity, in any and all media now known and hereafter devised, in any manner including in connection with the promotion, marketing, and advertising of the Program, other productions, Exhibitor, Exhibitor's products and/or services and in merchandise, sound recordings, commercial and promotional tie-ins and partnership marketing campaigns and the right to edit, dub, adapt, change and alter the Materials in any way that Producer or Exhibitor elects.

from paragraph 1
I like how the forward-thinking Apple attorneys don't limit the contract to our planet. I don't like altering the interview content to fit whatever message they want. Why bother with an interview at all? Just use actors. After all, it's Hollywood, the fiction capital of the world.
Paragraph two rubs salt into the wound.
I waive any right to object to any use (including any editing/dubbing/fictionalization) of the Materials by Producer or Exhibitor for any reason. I understand that my actions, the actions of others, and any information revealed about me may be private, sensitive, defamatory, disparaging, embarrassing or unfavorable. I consent to, and assume all risks of, Producer's inclusion of any such information or material in the Program or otherwise in its sole discretion, even if such inclusion might otherwise constitute an actionable tort.

from paragraph 2
Not bad if you're Oprah and Apple TV. Do anything you want, the interview subject assumes all the risk. And for no potential reward.
Paragraph 3 is downright insulting. This is where Mr. Galvin gives up his right to protect his medical records. Oprah, or anyone she wants, can use or share them as they see fit.
I understand that by agreeing to this authorization, I am waiving (giving up) rights I ordinarily would have to (i) keep my Medical Information confidential, and (ii) prevent Companies from utilizing the Medical Information in, and in connection with, the Program. I knowingly and freely waive these rights, and consent to the Companies' dissemination of the Medical Information to third parties for use in and in connection with the Program. I release the Companies from any and all damages, claims or other injury that may be caused to me as a result, including, without limitation, any claims for invasion of my right to privacy,and any breach of confidentiality or breach of a confidential relationship. My releasing Medical Information is voluntary.

from paragraph 3
Paragraph 5 is more annoying than anything else. Oprah will make money from this interview but not Nate's dad. Nobody offered to compensate Nate's dad for this interview. They demanded he give up all his rights in exchange for, well, nothing. Except the privilege of doing a video chat with Oprah. Using a borrowed Apple device.
I shall not make any commercial or other use of any Materials or the fact that I appeared in the Program. I shall not discuss the Program with any third party without written permission of Producer and Exhibitor.

from paragraph 5
Paragraph 9 also has a symmetry problem.
Producer may license, assign, and transfer any or all rights in this Agreement to any person or entity. I may not license, assign or transfer this Agreement or any of my rights or obligations herein to any third party, and any such purported license, assignment or transfer shall be null and void.

from paragraph 9
Nate advised his dad to decline the interview. I would have too. Nobody in their right mind should sign a contract like this. She' s not worth it.