This is a story about the time a few people decided to KCA. KCA – Kick COVID (with Attitude). Or fill in your own word for A.
I work for a software company named Red Hat in my day-job. No, it's not a ladies hat society; anyone who turns on a light, streams a movie, makes a phone call, or uses any of today's modern conveniences probably interacts with Red Hat software. Red Hat customers include most of the largest organizations in the world, and as part of my day-job, I host monthly restaurant lunch meetings for one such customer.
In our lunch meetings, sometimes we talk about work, but mostly, we tackle vital issues, such as, where is Frostbite Falls, MN.? None of this will ever find a place in a spreadsheet ROI calculation, but informal gatherings like this help build relationships. Customers are people and people like to buy from people they like. After keeping it up for several years, it's a tradition.
But then, a global pandemic put new phrases like "social distancing" into our language and forced all local restaurants to close. Now what?
Red Hat's informal motto comes to mind. It's one of the things I like about Red Hat. First they ignore you, then they laugh at you, then they fight you, then you win. It's on posters stuck behind locked Red Hat office doors around the world, and they'll stay locked until the world figures out how to deal with COVID-19 and people can work in offices again. But closed restaurants and locked offices are not a big deal. We're used to challenges at Red Hat. We eat adversity for breakfast. Or lunch.
If we can't gather at a restaurant, then do it virtually with live video over the internet.
The logistics were, well, complicated, because we expanded our group across a couple of time zones, but everything is complicated the first time. Next time will be easier.
First, we needed to find a restaurant close to people in both North Carolina and Minnesota. We settled on Texas Roadhouse Steakhouse because (1) the food is good, (2) every location in our group has a nearby restaurant, and (3) the CEO announced he's foregoing his annual salary while COVID-19 robs many restaurant workers of their jobs. Yeah, it's symbolic, but symbols are powerful.
We settled on Thursday, April 30, 2020 for our KCA lunch, and I started doing homework. Could we even do this? The answer was yes. Texas Roadhouse is open for business and does curbside pickup.
I wanted everyone to order from their local restaurant, but bill it centrally, so it could be on one receipt, just like any other business lunch. No sense fighting an automated expense reimbursement system built before a global pandemic changed the rules. Unfortunately, Texas Roadhouse restaurants are franchises, which means they're semi-independent businesses, and there's no facility for central billing.
But there is a facility to buy electronic gift cards in advance. This could work. So far, so good.
Each restaurant sets its own business hours. The North Carolina franchises were not open for lunch Monday through Thursday. But they open at noon US Eastern time on Fridays. The Minnesota restaurants open at 11 AM US Central time every Friday. And, so we moved our lunch to Friday, April 24, noon US Central time, 1 PM US Eastern time, or one hour after opening. That allowed plenty of time to order, collect the food, and get back home in time for lunch.
Electronic gift cards introduced a tactical challenge. The restaurant model is, buy one gift card for every participant. But some organizations are sensitive to gifts from a vendor to employees. Business lunches are acceptable. But giving an employee a gift card to buy a lunch is – by definition – a gift, and the last thing we wanted was to open that can of worms. And so I decided to buy one gift card in my name. But that also had a challenge because the maximum dollar amount for a gift card was $100. With eight people and a budget of $20 per attendee, the numbers didn't work. And that explains why my expense form showed two identical items with almost identical $80 receipts. I'm eager to see how the automated expense reimbursement system handles this. [Update later – the reporting system handled it without issues.]
We use Bluejeans video conferencing every day at Red Hat. But many organizations are not as accustomed to their people working from home over the internet. Some penalize employees for using unauthorized browser plugins on work computers, and the Bluejeans plugin is not on everyone's approved lists. Others frown on video meetings in general because video burns precious company bandwidth. And that leads to a KCA challenge. With everyone working from home, everyone needs a home internet connection and a personal device capable of doing video.
It's no different than telephones in every household in an earlier era. It doesn't need to be expensive. Nice webcams cost less than $100. Decent mics range from $20 to around $100. And eBay is awash in corporate lease-return computers for less than $300. Everyone in our group came up with something.
And then the big day came. Everyone ordered their food, drove to the restaurants, picked up the food, paid for it with the gift card number, and drove home with plenty of time to connect to the meeting. Everyone but me; I was almost fifteen minutes late. Story of my life – trying to cram seventy minutes of work into a sixty minute hour. And the ramp to I-35E South from I-494 West was closed and the unexpected detour cost even more time.
The KCA lunch itself went great. We shared conspiracy theories, family pictures, humor, video images, and more. We even clarified a few details around Rocky and Bullwinkle.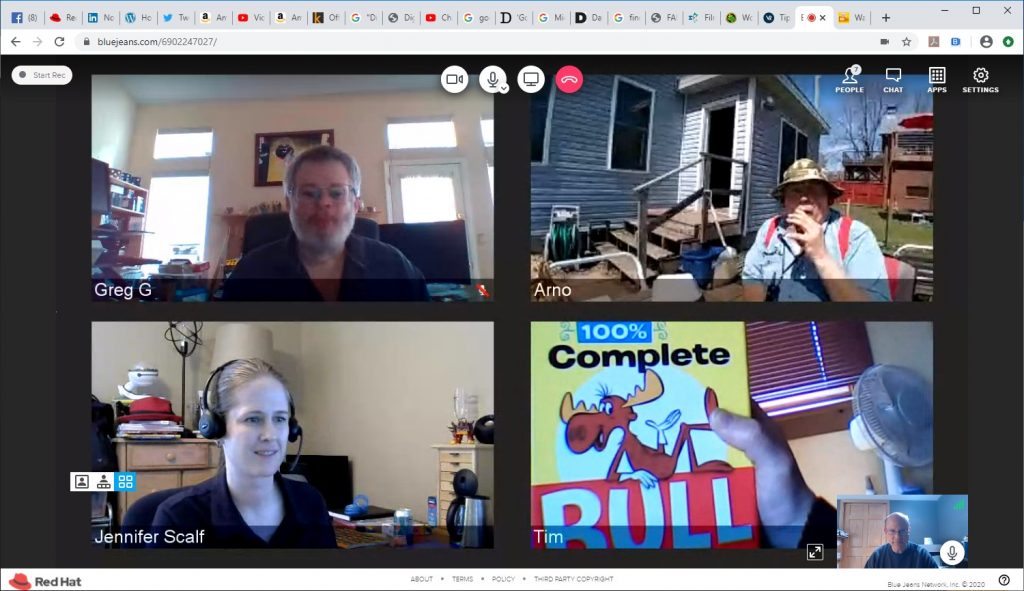 My research taught me a few lessons. I learned that services such as Doordash, Grubhub, and Uber Eats partner with various chains to deliver restaurant food to your door. But these services gouge their restaurant partners. And none offered central billing on one credit card, and Texas Roadhouse chose not to partner with any of these services. We also decided that after staying inside for the past several weeks, picking up the food curbside would be a nice break. And that's why I charged 42 business miles on my expenses for a customer lunch when nobody from Red Hat was supposed to travel.
But don't worry. We kept plenty of social distance, the Texas Roadhouse people all wore masks, and they would not let me inside the building. Several other cars were also in the parking lot to pick up curbside food.
While we're in this global pandemic crisis, the words for every day should start with KCA. Take a look at these thoughts about setting up a great work-from-home experience. The world needs what we've got. Now's the time to stand up and lead.